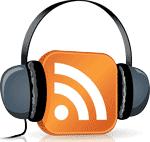 Welcome To Our Podcasting Page
A podcast is a way to receive media delivered to your computer or your browser. We update the podcast feed, and it automatically shows up in your aggregator. An aggregator is simply a program or website that collects all your different podcasts into one convenient place. You can subscribe to a podcast using software on your computer such as iTunes or Juice, or you can subscribe to it using web aggregators such as My Yahoo! or Feedburner. Some browsers, such as Firefox, allow you to subscribe to podcasts directly in the browser. If you are using Firefox you can subscribe using Live Bookmarks. If you are using Internet Explorer 8 or later you just simply click on the "subscribe to this feed" link and it will automatically place the link in the feeds folder.
* Please note that f you are using iPhone and iPad devices you may need to use iTunes to access the audio podcast feed.* 
**Some browsers such as Chrome may not support podcast feeds!**
Here are the easiest ways for you to subscribe to our podcasts and receive each week's message automatically:

Subscribe to our audio podcast via RSS

Subscribe to our audio podcast via Feedburner & other sources
The following methods require software downloads:

Subscribe to audio podcasts via iTunes here!

Subscribe to our audio podcasts via Juice here!
Fellowship Church ♥ PO Box 121 ♥ Englewood, FL 34295 ♥ (941) 475-Ship (7447)
All Rights Reserved.  Copyright © 2010-2014 View Our Copyright Policy Site Map