Our Mission And Beginning
At Fellowship Church our 'Main Thing' is to Love Jesus Christ And To Love People! This is what drives our engine. We firmly believe that if we have our hearts open to the Lord, we can effectively open our doors to people...
Fellowship Church of Englewood officially opened it's doors on the first Sunday of November, 2002 and was founded by Pastor Garry Clark along with the support and encouragement of about sixty 'launch team' members.
Pastor Garry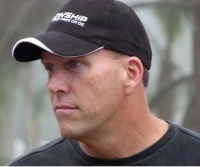 received his educational training from two theological institutions, Tennessee Temple University in Chattanooga, Tennessee and Luther Rice University in Atlanta, Georgia. He has pastored for over 25 years in Southwest Florida.
Fellowship Church has seen steady and even phenomenal growth since it's inception. After seven years of serving this community, we have seen our year-round Sunday attendance average grow to over 750, and to well over 1,000 during season. We are thrilled and honored to see people establishing a personal relationship with Jesus Christ on a weekly a basis.
Service Schedule
140 ROTONDA BLVD W ♥ ROTONDA WEST, FL 33947
Early Worship ♥ Sundays at 8:30 AM
Hospitality ♥ Sundays at 9:30 AM ♥ ♥ featuring free gourmet coffee and donuts fresh from the bakery.
Main Worship ♥ Sundays at 10:30 AM  
♥ ♥ Come Worship With Us! We Would Love To See You! ♥ ♥